Sexual Assault Kit Initiative (SAKI) Grantee

City of Cleveland (Ohio)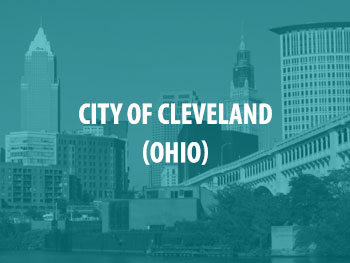 In FY2017, SAKI awarded the City of Cleveland a $2,083,842 grant that the department has used to inventory and test thousands of sexual assault kits (SAKs), all of which date back to 1986-1992. This inventory supplements the Cuyahoga County Prosecutor's Office SAKI inventory, which dates back to 1993. Grant funds have been utilized to support partnerships among the Cleveland Rape Crisis Center, police, prosecution, and crime laboratories.
As of 2020, the City of Cleveland has implemented a victim notification protocol; submitted the majority of their inventoried SAKs for DNA testing; and continued strong partnerships with the Cleveland Rape Crisis Center, Cuyahoga County Prosecutor's Office, Case Western Reserve University, and the Ohio Bureau of Criminal Investigation laboratory.
For more information on the specific SAKI awards for this site, see the table below.
City of Cleveland Funding
| Year | Amount | Purpose Area |
| --- | --- | --- |
| FY2017 | $2,083,842 | Comprehensive Approach to Unsubmitted Sexual Assault Kits |
Please direct all media inquiries to
News and Events
Man found responsible for 1997 rape in Medina County
— Avery Williams, Cleveland 19, Nov 24, 2021
On Nov. 18, nearly 25 years after the alleged crime, Medina County Judge Joyce Kimbler found Legg responsible for two counts of felony rape thanks to the sex assault kit testing initiative.
DNA genealogy testing leads to break in decades-old cold case rape in Cleveland
— Sara Goldenberg , 19 News, Jul 12, 2021
The Cuyahoga County Prosecutor's Office GOLD unit just announced a 1999 cold case rape in Cleveland has been solved, thanks to an identification of the suspect made through FGG.
45-year-old Akron man found guilty of four cold case rapes thanks to matching DNA
— Camryn Justice, News 5 Cleveland, May 14, 2021
A 45-year-old Akron man was found guilty of four cold case rapes stemming back as far as 2011 thanks to DNA evidence. "Justice has finally come for the survivors of these horrible attacks. I am so proud of these women who came forward and testified against this serial rapist," said Prosecutor Sherri Bevan Walsh. "I am also proud of the Assistant Prosecutors as well as our Sexual Assault Specialist for their work on this case. Finally, I want to thank the Akron Police Department for their collaboration in helping solve this crime."
Serial Cleveland rapist pleads guilty to raping two women, gets 20 years tacked onto already lengthy sentence
— Cory Shaffer, Cleveland.com, Jan 12, 2021
Investigators tied man already in prison to two attacks from the mid-2000's in Cleveland, OH through DNA evidence in previously untested rape kits as part of the Sexual Assault Kit Task Force. He was sentenced to another 20 years in prison.