Sexual Assault Kit Initiative (SAKI) Grantee

Office of the Attorney General of Virginia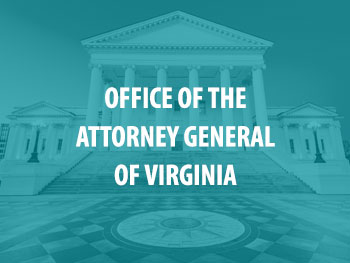 SAKI awarded Virginia a grant in the amount of $2 million, which it will use to inventory, submit, and test SAKs. The department will also use the funds to implement a new physical evident recovery kit (PERK) tracking system; cover training costs; and designate a survivor support specialist, research assistant, and project manager.
In 2019, SAKI awarded the Office of the Attorney General of Virginia $950,390 in additional funding to support the investigation and prosecution of cold case sexual assaults by increasing the training, awareness, outreach, and use of trauma-informed investigation techniques. Virginia will support multiple positions through these funds, including an investigator and a victim advocate.
Please direct all media inquiries to:
News and Events
Va. Attorney General Mark Herring: first conviction announced from working through rape kit backlog
— 13 News Now, Aug 27, 2020
First conviction in VA from testing backlogged PERKs. Attorney General Herring stated "Testing these kits and entering the DNA into the national database help law enforcement identify suspects, link crimes committed by unknown or known suspects, make our communities safer, and hold individuals who commit these heinous crimes accountable."
Virginia eliminates backlog of 2,665 untested rape kits
— Tom Jackman, The Washington Post, Jul 8, 2020
Virginia has eliminated a backlog of 2,665 untested rape kit tests . Approximately, 851 of those rape kits resulted in DNA profiles that were entered into CODIS, the national combined DNA index system, and 354 of those profiles resulted in "hits."
Man faces charge in child sex crime after DNA match found in PERK kit backlog project
— NBC 12 Newsroom, Nov 13, 2019
A 26-year-old Spotsylvania County man became the first person charged in the attorney general's rape kit backlog project. * also has project stats at end of article.
TESTING COMPLETED ON PRE-2014 BACKLOG OF UNTESTED RAPE KITS
— Charlotte Gomer, Commonwealth of Virginia Office of the Attorney General, Mar 27, 2019
Virginia has completed testing on their pre-2014 previously unsubmitted sexual assault kits thanks to their DANY funding.
State developing computer program to allow victims to track sexual assault test results
— Frank Green, Richmond Times-Dispatch, May 20, 2018
With support from the Sexual Assault Kit Initiative, the Virginia Department of Forensic Science is working on a new software that will give victims the ability to track their sexual assault kit.
Testing of backlogged rape kits leads to 22 DNA hits
— Kerri O'Brien, WRIC ABC 8 News, Apr 13, 2018
Richmond Police Department has sent 195 rape kits for testing and has so far received 22 hits in CODIS, the national DNA database.
Virginia deserves applause for its work to eliminate a rape kit backlog
— The Washington Post Editorial Board, Jun 19, 2017
Virginia deserved applause for its work to eliminate its estimated 3,200 kits across the state that remained untested. Virginia has already tested about 1,000 of those kits with funds from the Manhattan District Attorney Cyrus Vance's $38 million initiative. Additional funding, provided by SAKI will allow the remainder of kits from 2014 to 2016 to be inventoried, tested, investigated, and prosecution.
Attorney General wants to eliminate backlog of untested rape kits
— Web Staff, WDBJ7, Jun 8, 2017
Attorney General Mark Herring announced that he is taking continued steps forward in order to eliminated the backlog of unsubmitted rape kits in Virginia. He has added 1,200 additional kits collected between 2014 and 2016 to be tested. To learn more about the SAKI project in VA, read the full article.
Attorney General Mark Herring announces $2 million grant to test remaining rape kits across Virginia
— WRIC Newsroom, Jan 11, 2017
Virginia was awarded additional funding to complement its existing award from the District Attorney of New York. The funds will be used to test any remaining backlogged rape kits, develop a new tracking system, develop specialized training for law enforcement relating to trauma-informed victim interaction, and preventing gender bias. To learn more about the work being done in Virginia, read the full article.