Sexual Assault Kit Initiative (SAKI) Grantee

New Mexico Second Judicial District Attorney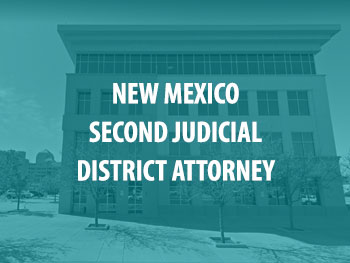 The New Mexico Second Judicial District Attorney's Office received a $1,000,000 SAKI award in fiscal year 2018 from the Bureau of Justice Assistance. The District Attorney's Office will utilize this funding to enhance the prosecutorial processes that have resulted from the testing of sexual assault kits in the city of Albuquerque and Bernalillo County. The City of Albuquerque Police Department received SAKI funding in fiscal year 2017; therefore, an increased caseload is anticipated from the District Attorney's Office. The office will establish a Sexual Assault Cold Case Working Group, contract additional personnel, and develop and implement victim-centered communication and coordination strategies.
In 2019, a second SAKI award was made in the amount of $1 million for the office to continue their project work. This additional funding will be utilized to hire additional support (two full-time secretaries and two full-time paralegals), implement DNA analysis through forensic genetic genealogy testing and complex screening in hopes of identifying serial offenders, continue prosecuting cases from previous SAKI-funded projects, and expand the capacity of the District Attorney's Office to serve victims, process sexual assault kits, prosecute offenders, and eliminate the number of previously unsubmitted SAKs.
News and Events
Dozens of lawyers volunteer to help prosecute rape kit backlog cases
— Brittany Bade, KRQE, Mar 3, 2020
The Bernalillo County District Attorney's office is rolling out a new initiative to prevent another devastating and dangerous backlog in the court system.
DNA links former Bernalillo County firefighter to 2009 rape case
— Rebecca Atkins, KRQE Media, Oct 22, 2019
DNA results from a backlog of rape kits link Celso Montano Jr. to rape in 2009.
Could $1 million grant help ease city's rape kit backlog?
— Shellye Leggett, KOAT 7, Oct 4, 2018
The Bernalillo County District Attorney's Office received a $1 million grant as part of the Sexual Assault Kit Initiative for the investigation and prosecution of cases stemming from previously unsubmitted sexual assault kits.